My CNC lathe conversion
Here's a random collection of pics I appreciate that there's almost no detail here.
E-Mail
me if you'd like to know more.
---
A few years back I moved interstate and sold my trusty chinese 36" lathe. (They trip the metal detectors at airports!). Given the opportunity to start fresh I decided that a CNC machine was the go. Not knowing much about this I started on a journey of discovery and smoking transistors.
The first thing I did was buy a 9x20 lathe:

Shown here sans most of it's guards. This little weight loss episode was to be one of many, the final result being positivly anorexic!
The lathe is a Hafco AL50, I bought the version without the quick change gearbox.

For the first year I ran the Z axis from the 2mm pitch leadscrew. This worked a treat until one day when the pinion gear connected to the manual saddle handwheel jammed against the rack, stopping the saddle dead. As luck would have it I was moving slowly at the time and the motor had more than enough torque to completely strip the half nuts!

Driving the Z axis now is a new 300oz/in NEMA34 stepper and a 5TPI ballscrew. I bought the rolled screw from www.homeshopcnc.com for about AU$150 landed.
This turned out to be a neat fit under the headstock




Above you can see the 3/4 horsepower three phase motor that I replaced the big single phase unit with.
I drive this from a VFD that converts 240VAC to three phase 240VAC and is controlled either by the computer, or by the control box
The other buttons are E-Stop and coolant.
By far the biggest part of this project was the further development of my own stepper motor drives.


It looked so tidy when I first did it About 4 evolutions ago it started to get messy

Out of this process I came up with 3 good drive designs for motors drawing between 1A and 4A
---
So what can I make with it?
Steel rocket nozzles, the interesting bit being that the exit cones are actually bell shaped
Here's a better example, this is a plug for making tangent ogive nosecones. It's machined from polyethylene, when I've finished laying up fibreglass on it, I re-machine it with a 2mm offset to produce a uniform thickness shell. A few minutes in the freezer and the plug just drops out



click on the image for some video of it turning the threads.

Now these are dinky, 650PSI 1/2" diam pressure relief valves with 1/8"BSPT threads.
This is a standard demo I do.
It spins the lathe up to 1500 RPM,
Turns a taper on the blank,
Slows down to about 750RPM
Turns a 4mm pitch tapered thread,
Turns a second start 4mm pitch tapered thread,
Spins back up to 1500RPM,
Does some chamfers
A completly useless item, but it's great to watch it being made
I wrote some code to take a length and produce a ball handle to suit. Bit of fun, I churn one of these out in about 90 seconds. When you can do things like this you end up with ball handles on everything, just because it's easy.
---
How fast is it really
One of the things that really shits me about most CNC pages is that no-one fesses up about how fast their machines go.
This machine will move 1.5m/min on X and 6m/min on Z. If I had coarser pitch screws it would go faster!
Whats Next?
Well the lathe is a pretty useful thing as it is. I'm presently building an
automatic tool changer
like the one my mate Dave has: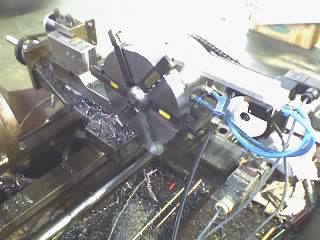 I'll probably call it quits at that point.
---
1/7/07 OK I 've finished installing the lathe in the new shed. Took this opportunity to finish off a bunch of things and generally tidy it up a bunch.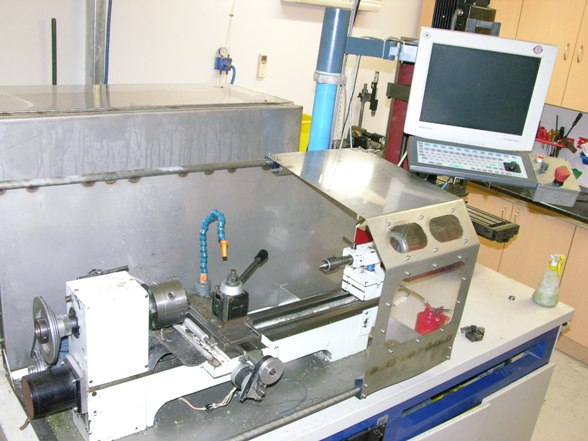 You can see the pretty stainless guards I made up in (mucho thanks to Troy for his help). The door just slides on plastic blocks, works pretty well. I now run the coolant wide open without making a line on the ceiling.
Because I control 3 machines (Lathe,
Router
, Mill) from the one computer I built a swinging arm to support the monitor, membrane keyboard and
USB pendant
.
Eventually I'll build a laser cut console. But right now I'm just gonna make swarf with what I have.
---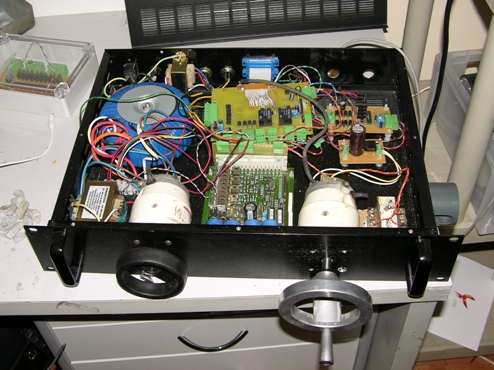 I'm a bit happy with these 2RU 19" rack cases for the drivers. They seem to be just the right size. Note the MPG's I reckon I use the lathe in manual mode about 80% of the time. The CNC software just acts as DRO's and stops.
---